Clean Energy Trade Standard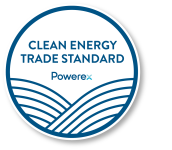 Powerex has adopted the Clean Energy Trade Standard – a standard that provides confidence to purchasers of clean energy that their purchases represent truly surplus clean supply.
The Clean Energy Trade Standard distinguishes clean hydro systems as a fully credible and reliable source of clean supply, demonstrating an innovative step forward in wholesale clean electricity.
The impetus for creating the Clean Energy Trade Standard is the ambitious environmental goals to reduce greenhouse gas (GHG) emissions associated with the production of electricity set by many large commercial customers and Western U.S. states over the past decade. Powerex believes a key barrier has been the challenge inherent in establishing whether wholesale electricity imports from the Western grid genuinely reflect clean supply.
Under the Clean Energy Trade Standard, Powerex is required to engage an independent verifier and provide all necessary data to verify adherence to the Standard. This verification process is in accordance with ISO 14065 with a verification statement posted publicly at the end of the Reporting Period.
The Clean Energy Trade Standard positions Powerex to meet the rapidly growing demand for clean electricity from a range of customers, including corporate users that increasingly seek to demonstrate to their shareholders 100% clean electricity procurement as part of their corporate commitments, and load-serving entities in the West under a clean procurement requirement.
In support of the Clean Energy Trade Standard, Powerex developed a white paper that describes the challenges to decarbonizing the Western electricity grid, and how the Clean Energy Trade Standard helps achieve this important objective. The Powerex White Paper and Clean Energy Trade Standard details a robust framework that provides accountability for all imports and exports to and from the BC Hydro system, while also recognizing domestic generation sources and native load service.     
Further background can be found in Powerex's 100% Clean Energy Standard Discussion Paper prepared in 2019.
Learn About Our Business